How to Use Resin: Beginners Guide to UV Resins for Arts & Crafts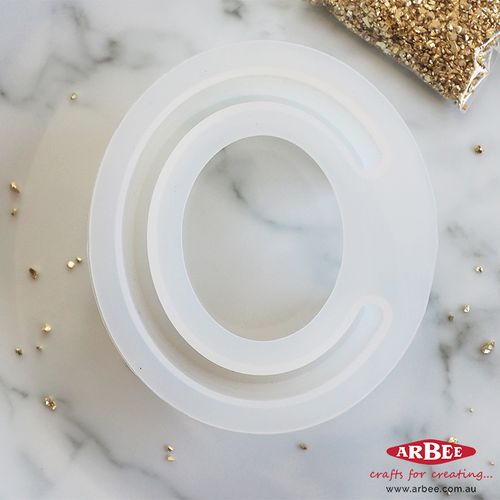 This is a beginners guide on how to use resin and uv resins for all your art and craft ideas. Learn in just 6 steps how to create anything using uv resin, from jewellery and hairclips, to keyrings and handmade buttons.
STEP 1: SELECT A SILICONE MOULD OR BEZEL TO ADD RESIN
You will need a silicone mould or bezel suitable for your project. We have used the medium bangle mould by Ribtex. We also have moulds for jewellery making, hairclips, buttons, square and round beads, alphabet and numbers. You need to use a silicone mould because when the resin sets, it will separate easily from the mould. If you are working with a bezel, lay a wide piece of sticky tape on your workspace (sticky side up) making sure it is completely flat and clean. Place the bezel on top and press down to create a seal.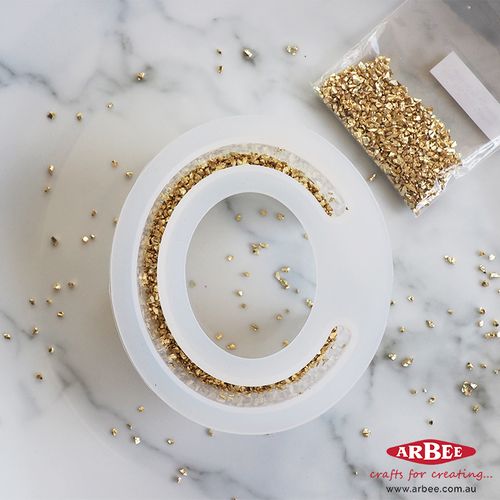 STEP 2: ADD EMBELLISHMENTS ON TOP OF RESIN LAYERS
Begin by adding a thin layer of resin to the bottom of your bezel or mould. Run a toothpick or similar tool around the edges and base of the mould or bezel to ensure the resin goes right to the edges and there are no trapped air bubbles. Next, carefully place your embellishments in the desired position. We have used Ribtex metallic gold glass chips. Use a toothpick or similar tool to move your embellishments into place.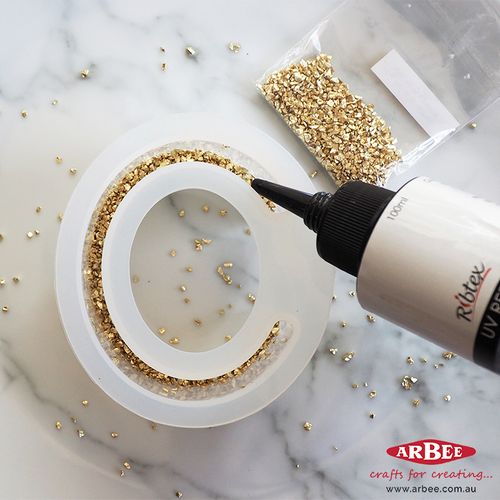 STEP 3: ADD UV RESIN LAYER BY LAYER
Fill the remaining space in the mould or bezel with Ribtex UV Resin. We have added clear UV resin. When adding the UV resin, bubbles can form and become trapped. It is important to pop any bubbles otherwise your project can end up with holes in it. Using a toothpick or similar tool, gently stir or move the UV resin, taking care not to disturb your embellishments and run the tool around the edges of the mould or bezel to help free any small pockets of air.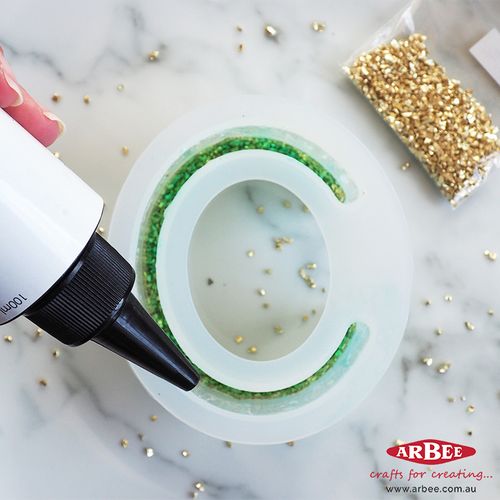 STEP 4: CONTINUE LAYERING
You can achieve interesting effects using layering techniques. You can choose to layer your project and cure it once, or cure each layer at a time - depending upon the outcome you wish to create. Testing and practicing techniques will help crafters learn what techniques they like. We cured the original, thin layer of UV resin for a perfectly smooth base, then layered the metallic chips, followed by the clear UV resin, followed by a layer of green UV resin. Ribtex have a variety of coloured UV resins in their range.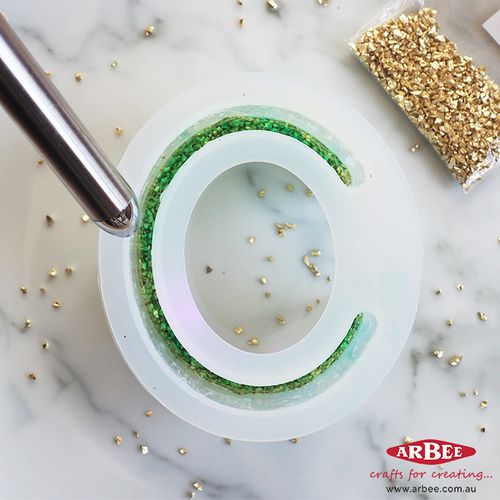 STEP 5: UV LIGHT
UV resin hardens under UV light. We have a UV torch in the Ribtex UV Resin range which is suitable for small, thin projects. Alternatively you can use a UV lamp or direct sunlight. When you are curing your project, you need to keep it under a UV light source until it is hard and smooth. If it is sticky, it needs more time under UV light. It is a good idea to cure the top side first, then turn your project over and expose the underside to UV light as well. UV light rays should pass through the light silicone mould.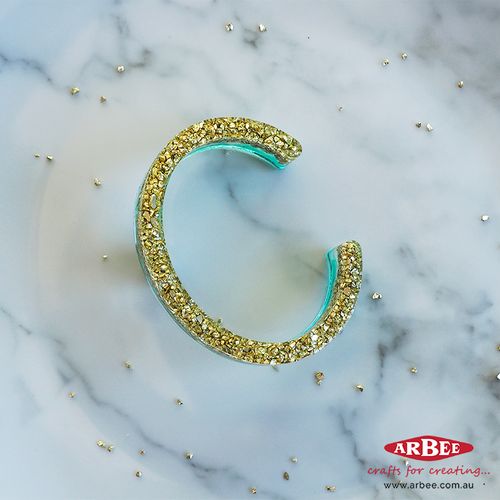 STEP 6: FINISHING TOUCHES
When your project is completely set you can remove it from its mould and if you are working with a bezel you can remove the tape. If you find any rough or sharp edges you can gently sand them down with fine sandpaper or a nail file. Now you can add any jewellery findings or keyring settings necessary to complete your project. Our bangle was ready to wear straight out of the mould.
RIBTEX UV RESIN RANGE
You can view the Ribtex UV Resin range here and our jewellery findings here.