A Complete Beginners Guide on Needle Felting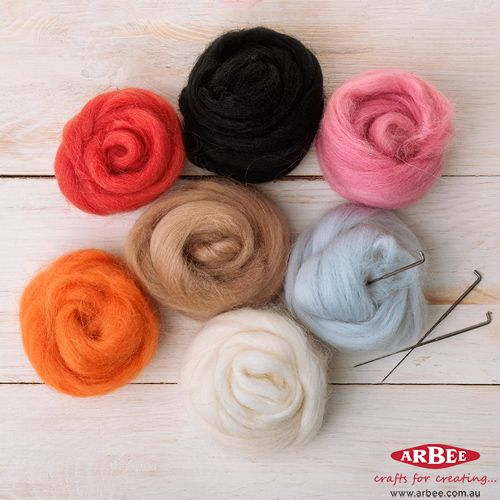 Needle Felting
This beginners guide is perfect for anyone who enjoys creating art and craft projects using felt products. We're going to explain what needle felting is, a step by step guide on how you can do it and the tools and supplies you'll need to get started.
Needle felting sounds quite complex but it's actually not that difficult and you can create some adorable designs. You don't need to be a knitter to take up this activity, but if you already knit then think of it as another fun thing that you can do with wool.

What is Felting?
To understand needle felting, you need to understand the general felting process. When a person if felting, the fibres of the wool become agitated until they lock together in a tight bond. If you've ever felted during a knitting project, you'd already be familiar wiht this process, except you would have used hot water to bond the fibres. Needle felting is a similar process but you're agitating the wool with a sharp needle instead of water.
So, needle felting is the process of transforming wool into 3D objects using a felting needle. For example, making a furry animal or a little woollen plant.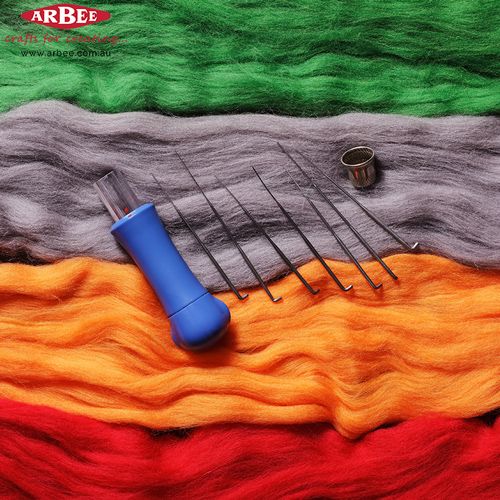 Supplies You'll Need
Felting needle: A felting needle should be sharp and delicate. The needle has small barbs on the shaft which are designed to catch the fibres in the raw wool and felt it to either itself or to another fabric. Felting needles come in different sizes and the higher the number, means the finer the needle which will produce more detailed works.
Alternatively, you can use a felting pen, which is almost like a pacer pencil as the needles are replaceable if they break.The pen allows for more than one needle, making the process faster and larger amounts of felting can be done at once. The Arbee plastic needle felting tool has seven needles which are replaceable, as well as a plastic guard around the needles which is lockable when twisted. This is great for beginners or young craft makers.
Wool: Combed wool is good for beginners because it's easy to felt due to its fuzzier texture compared to some wool rovings that have been conditioned.
Foam pad: Foam pads make for a great work surface as they are soft and have a penetrable base to work on when needle felting.
View Arbee's great selection of needle felting supplies here.


Step By Step Process
There are many tutorials online if you are looking to make a specific animal or object. Below we'll just show you some simple steps on how to get started.
Step #1: Prepare the wool
If you are using roving, such as Merino wool you'll be able to tear pieces of it off. It should pull apart fairly easily and you don't need to use scissors.
Step #2: Roll it into a ball
Roll the roving into a ball and tuck the ends in as best as you can.
Step #3: Poke ball with needle
Place your small ball on top of your felt pad or surface, then use the needle to poke the ball, going about 5-6mm deep each time. Poke the ball straight up and down so your needle goes in and out of the felt easily. Make sure to protect your fingers as felting needles are very sharp.
Step #4: Keep going until the wool felts
Continue poking the felt until the fibres start to bond together and you can see that the felt has formed. The ball will probably look slightly smaller in size.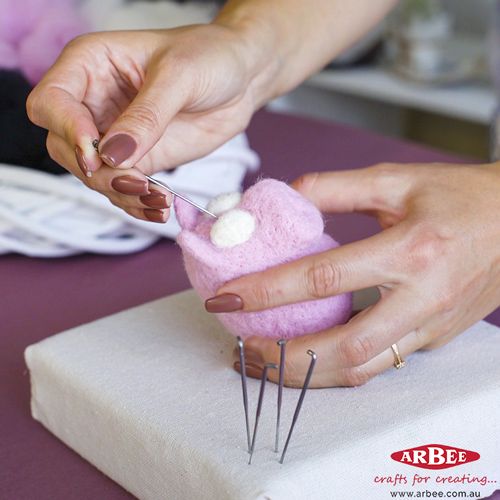 Can You Use Acrylic Yarn Instead of Wool?
Yes, a lot of people who are vegan don't want to use wool so they use acrylic roving. However, there are some disadvantages to using acrylic roving over natural fibres such as wool. Acrylic fibres tend to cling together very easily and feel slightly harder on the needle making it more difficult to felt. To soften acrylic roving, you can brush it out with a pet brush.
The advantages of using wool over acrylic roving are the following:
- It doesn't grow mouldy because wool is water-resistant
- It's eco friendly because wool is biodegradable
- It's flame resistant
- It's hypoallergenic so wool won't attract dust mites


What can you make?
Needle felt animals: You can make any animal you can think of out of needle felting. Some cute animal ideas include miniature owls, robins, otters and sheep. You can find plenty of tutorials online on how to make different needle felt animals.
Needle felt Christmas tree: Why not make your own miniature Christmas tree out of needle felt? They are extremely cute and you can buy some other supplies for the tree's decorations including gold chain, heart beads and other assorted beads.
Needle felt earrings: Want to combine needle felting with jewellery making? Why not make some felted ball earrings? They're easy to make and they'll brighten up any outfit. You could even string some felted balls together to make a colourful necklace.
Needle felt plants: Have trouble successfully growing plants? You should try making a needle felt one instead. Needle felt cactus are a fun craft project and best of all, it'll never die! You'll need a little pot to put it in and fill it with gravel to complete the look.
Ornaments: Create some lovely Christmas ornaments for your tree. Not only will these brighten up your tree but you'll treasure your handmade ornaments much more than the store-bought ones.
Happy Crafting,
Arbee